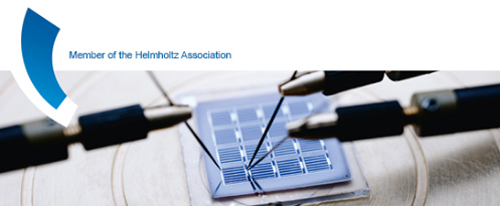 PhD Student (f/m/d) Perovskite/Silicon tandem solar cells – characterization and modeling for highest performance and energy yield
Reference No.: EE 2020/41
The young investigator group "Perovskite Tandem Solar Cells" has recently published two record efficiencies for perovskite/CIGS as well as perovskite/silicon tandem solar cells. The aim of the group is to further optimize this fascinating tandem technology by detailed understanding of the dominant loss mechanisms. With this announced PhD position, detailed optical and electrical characterization should help to improve the performance and energy yield of perovskite-based tandem solar cells.

The announced PhD position is embedded in the broad HZB infrastructure, including the Helmholtz Innovation Lab HySPRINT. Collaboration is planned with the Competence Centre Photovoltaics Berlin (PVcomB), especially with the group for Outdoor Performance Analysis at HZB and the 'Laboratory of photovoltaics and optoelectronics' at the University of Ljubljana in Slovenia. This collaboration offers the opportunity to bridge the gap between fundamental research and industrial applications.

Topic of the doctoral thesis: Perovskite/Silicon tandem solar cells – characterization and modeling for highest performance and energy yield.

The PhD student will be a member of the Graduate School "Hybrid Perovskites Solar Cells" (HyPerCells).
Tasks
Development and optimization of perovskite-based tandem solar cells
Gain detailed understanding of loss mechanisms
Drive advanced optical and electrical characterization of perovskite-based tandem solar cells
Analysis of stability, energy yield and outdoor performance
Ihr Profil
Master Degree in Physics, Material Science, Chemistry, Renewable Energy or similar field
Solid knowledge in semiconductor physics and solar cells
Experience in the fabrication of perovskite solar cells
Experience in programming or simulations is advantageous
Scientific mindset with highest motivation to drive scientific projects
Willingness to travel to Slovenia for at least 6 month
Very good English skills
What we offer
Fixed term contract for 36 months. The salary is based on the Collective Agreement for the German Public Service (TVöD-Bund).

We particularly welcome applications from women. Preference will be given to handicapped applicants provided equal suitability.

How to apply
We look forward to receiving your application via our application management system by 27.11.2020. For reasons of data protection regulations, we are unfortunately unable to consider applications that reach us by email or by mail in the application process.